Speaker I was my first full speaker project. Previously I had rebuilt a pair of speakers that I was borrowing from my parents (a tweeter was going bad). Originally, I bought a pair of inexpensive satellite speakers made by JBL and was going to add a subwoofer. As you will see, there is no "just going to add a subwoofer."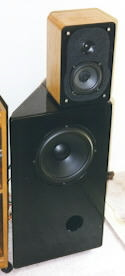 The current state of Speaker I.  Triangular woofer cabinet with Vifa 10″. The triangular shape has no parallel walls, so resonances should be minimal. The cabinet is internally laberenthed via partial internal baffles. This helps brace the cabinet and controls the sound's flow.
The satellites use a Peerless 5″ soft paper mid-range and 3/4″ Vifa tweeter. The cabinet is a Woodstyle product. The crossover is 3rd order Butterworth at 3 KHz.
I was going to New Mexico to work for the summer. Concrete blocks were too heavy to bring, so I bought some woodstyle cabinets. With driver's remounted, I left the crossover hanging out the back thru the reflex-port. When I returned from my summer job, I reworked the crossover. What a difference! Vocals that I did not understand before were now clear as day! Later, the satellites made a trip to DCM. Testing there showed a fairly flat response (as had my own testing). The only major issues were
A dip at the crossover frequency of about 2 dB which gives a slightly recessed, distant sound quality, especially on vocals.  (The cross-over was 3rd order electrical Butterworth, not 3rd order acoustic Butterworth.)
360 degrees of phase shift, that is, one full wavelength of time delay, on the tweeter.
Increased distortion around 200 Hz caused by the surround of the mid-range.
Just consider that the total speaker cost was about $225 for the satellites (including $100 for the woodstyle cabinets) and $200 for the subwoofer modules and sat/sub crossover. I spent a fair amount of time on the revised crossover design. That time spent made much more of the $23 mid-range and $13 tweeter than I think the average speaker gets from drivers that cost twice as much with a cook-book crossover design.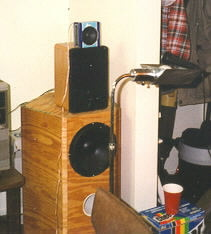 The original subwoofer cabinet was a five-sided; a pentagon! Don't ask about all the hours of work it took to make this shape. Originally a Madisound 10″ woofer was used. Later, testing showed that the woofer's efficiency was not 89 dB as claimed, but closer to 85 dB.  So the cabinets were made smaller and I replaced the Madisound 10″ drivers with a Vifa 10″ model. With an efficieny rating of 90 dB, the bass level matched the satellites. The white PVC port was also added, which extended the bass response.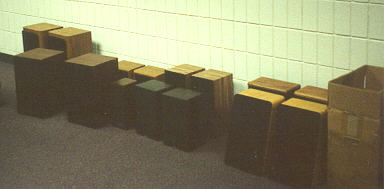 One of these speakers is not like the others… it has a concrete brick for a cabinet!  You know, the 8″ x 16″ variety. Tweeter in the top chamber, mid-range in the bottom chamber. The block is covered with a faux wood paper laminate. The front baffle was covered in black felt.  This was the satellite cabinet before the Woodstyle. I'll give you a hint… the most important cow is in the middle of the herd 😉