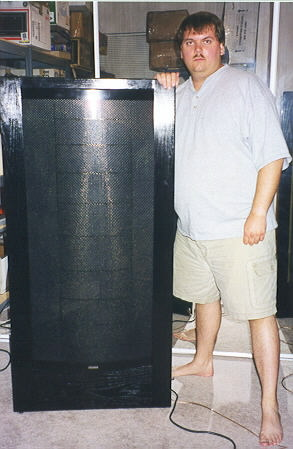 This is what a CLS IIz looks like with the black finish. (5'10" author added for scale.) The diaphragms are transparent which is not easily discerned due to the camera flash. For much more information you should visit their site.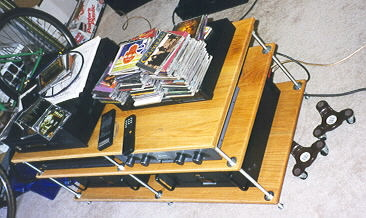 The system powering them in Nov '99. The large, amp-sized item on the top left is not an amplifier. It is a Theta Digital Data II combination Laser Disc / CD transport. To the right is a Rotel RDD-980 transport which I originally bought for my CLS II system. The DAC is a Theta ProProgeny A (left 1st shelf). This DAC impressed me so immensely with its construction quality that I decided to replace the Rotel transport with a Theta transport. The pre-amp is a McCormack TLC-1 (right 1st shelf), and amplification is a pair of '91 vintage PS Audio Delta 250 monoblock amplifiers (left and right bottom shelf). Later I upgraded to an Aragon 4004 (below).
This purchase was not initially stress free.  The frame split on one of the two panels during shipping.  I ended up repairing it myself.
You may have heard that the impedance of electrostatic speakers is very low at high frequencies.  I took some measurements of the undamaged speaker, with and without the power applied.  That's under 2 ohms at 20 kHz !!!